Happy Poetry Friday! In today's post, I include an excerpt from a Byron poem quoted in one of the titles I share for our end-of-the year series on our
Favorite Reads of the Year
. If you haven't entered our current giveaway yet, see the link at the end of this post.
I've enjoyed reading about my fellow
TeachingAuthors
' favorites:
voracious reader Mary Ann shared SIX titles, Esther gave us FOUR, April hosted a guest TeachingAuthor interview and giveaway of her ONE favorite,
and
Bobbi shared THREE books
, including one for adults on the craft of storytelling.
Like Bobbi, I'm sharing THREE titles today, which brings the total of
TeachingAuthor
favorites of 2017 to 17 so far, and we still have one more
TeachingAuthor
to hear from! Some of you have affirmed our suggestions, but if we haven't mentioned one of YOUR favorites of the year, please give us the title in the comments. Meanwhile, here are mine: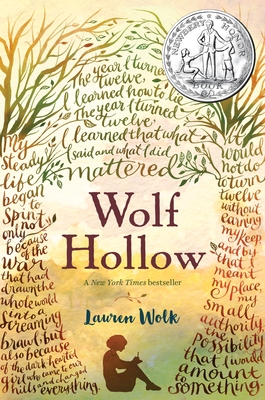 Wolf Hollow by Lauren Wolk
was a 2017 Newbery Honor book, but our
Not For Kids Only (NFKO) Book Club
didn't read it until this year. I was immediately drawn in by the book's first line and have added it to my list of great opening sentences:
The year I turned twelve,
I learned how to lie.
As I read
Wolf Hollow
, I felt I was living inside of the narrator, Annabelle's, skin, walking in her shoes every step of the way. I shared her fears and admired her courage, especially at the end.
Wonder
by R.J. Palacio
This book is the "Modern Classic" I'm alluding to in this post's title. Our NFKO Book Club read it first back in 2012, not long after
Wonder
first came out. This year, we all went to see the movie together. I re-read the book the week before and was pleased to see that the movie stays fairly true to the book, even shifting the point-of-view character as the book does. All eight of us loved both the book and the movie versions of
Wonder
. We still don't understand how the American Library Association neglected to give the novel any medal recognition back in 2012. However, I hope this story about the power of kindness does indeed become a modern classic.
Like
Wolf Hollow,
the third book I'm sharing is historical. But unlike my other two favorites of the year, this one is for adults:
Enchantress of Numbers: A Novel of Ada Lovelace
by Jennifer Chiaverini. I don't typically read books for adults, but I couldn't pass up this biographical novel about Ada Lovelace, whom many consider the world's first computer programmer. I've mentioned here before that I have an undergraduate degree in Mathematics and Computer Science. That is part of the reason I ended up writing my young-adult novel
Playing by Heart
, which is inspired by composer Maria Teresa Agnesi and her mathematician sister, Maria Gaetana Agnesi. Ada Lovelace was born less than 100 years after Maria Gaetana Agnesi, and the two faced similar challenges when it came to earning respect as female mathematicians. Still, I was pleasantly surprised to find the little-known Agnesi mentioned in
Enchantress of Numbers
. Unfortunately, the reference says Agnesi was a 16th-century mathematician when she actually lived in the 18th-century. I've written to the author pointing out the typo--I hope the publisher corrects it in the next edition.
Ada Lovelace was the daughter of Lord Byron, whom the book's back copy describes as "the most brilliant, revered, and scandalous of the Romantic poets." Chiaverini uses verses from Byron's poems as her chapter titles, and she occasionally includes excerpts from his poems. In honor of Poetry Friday, today I'm sharing one of those excerpts, which Chiaverini took from the third canto of
Childe Harold's Pilgrimage
. The stanza mentions Ada and appears at the end of chapter one of
Enchantress of Numbers
. The chapter title is a line from the stanza: Sole Daughter of My House and Heart.
from Childe Harold's Pilgrimage
by George Gordon, Lord Byron
Is thy face like thy mother's, my fair child!
ADA! sole daughter of my house and heart?
When last I saw thy young blue eyes they smiled,
And then we parted,--not as now we part,
The waters heave around me; and on high
The winds lift up their voices: I depart,
Whither I know not; but the hour's gone by,
When Albion's lessening shores could grieve or glad mine eye.
Carmela